Staffwild Pet Food is owned and ran by Karen & Maggie, Karen has been a breeder of Staffordshire Bull Terriers since 1991 and in the later years, ventured into breeding and showing American Staffordshire Terriers.
We are always being asked what do we feed our dogs, how much, how often, how to tell if your dog is underweight, overweight.
There is no real set in stone rule to feeding dogs, every dog is different so the diet may need to be adjusted for individuals within one household, similar to the way humans eat.  One person can eat a entire cake daily and not put on weight, another person has to just think about eating the cake and a couple of kilos are gained! Ideally an adult dog would require 2 to 3% of their body weight for maintance.
We feed a complete BARF (Bones and Raw Food) diet here.  Even when away for shows, our dogs still receive the Raw food, just means another esky full of chicken frames for them.  Our dogs never receive dry dog food.
Below is what we feed typically for a week for an Adult Amstaff (25 to 30kgs). Our Staffords would receive approx. half of this diet. 
| | | |
| --- | --- | --- |
| Day | Morning | Afternoon |
| Monday | Brisket Bone | 450g BARF Mince |
| Tuesday | Nil | Crocodile Leg |
| Wednesday | Brisket Bone | 450g BARF Mince |
| Thursday | Nil | Chicken Frame |
| Friday | Brisket Bone | 450g BARF Mince |
| Saturday | Nil | Chicken Frame |
| Sunday | Nil | Crocodile Leg |
We source all of our dogs food from Canine Country.  I have been using them for approx. 15 yrs.  
We use the following BARF Mince varieties.  Composite Red, Composite White, Duck, Turkey, Beef & Lamb as well as the occasional Holistic Wild Boar.
Roo Tail Bone, Roo Back, Crocodile Legs, Crocodile Tail Bone, Chicken Frames and Turkey Necks are fed to the dogs here.
Canine Country have a large range of BARF diets, to suit all types of dogs, even a feline BARF which our cats absolutely love.  
The main thing you need to remember when feeding is, if you are seeing every rib or backbone on your dog, increase their intake, double the mince, or chicken frames.  If you are unable to see the last rib or a good tuck in the waistline, reduce, half a chicken frame, 150g mince etc.  Remove the brisket bone once or twice a week in the morning.  
Below are photos of our dogs at various weights, what I consider to be healthy and what I consider to be overweight.
The Good
Staffwild All The Aces ~ 5yr old Amstaff Bitch.  I consider this girl to be at a beautiful weight in this photo.  The rib cage is visible, but you cannot see every individual rib or any backbone, lovely tuck at the waistline.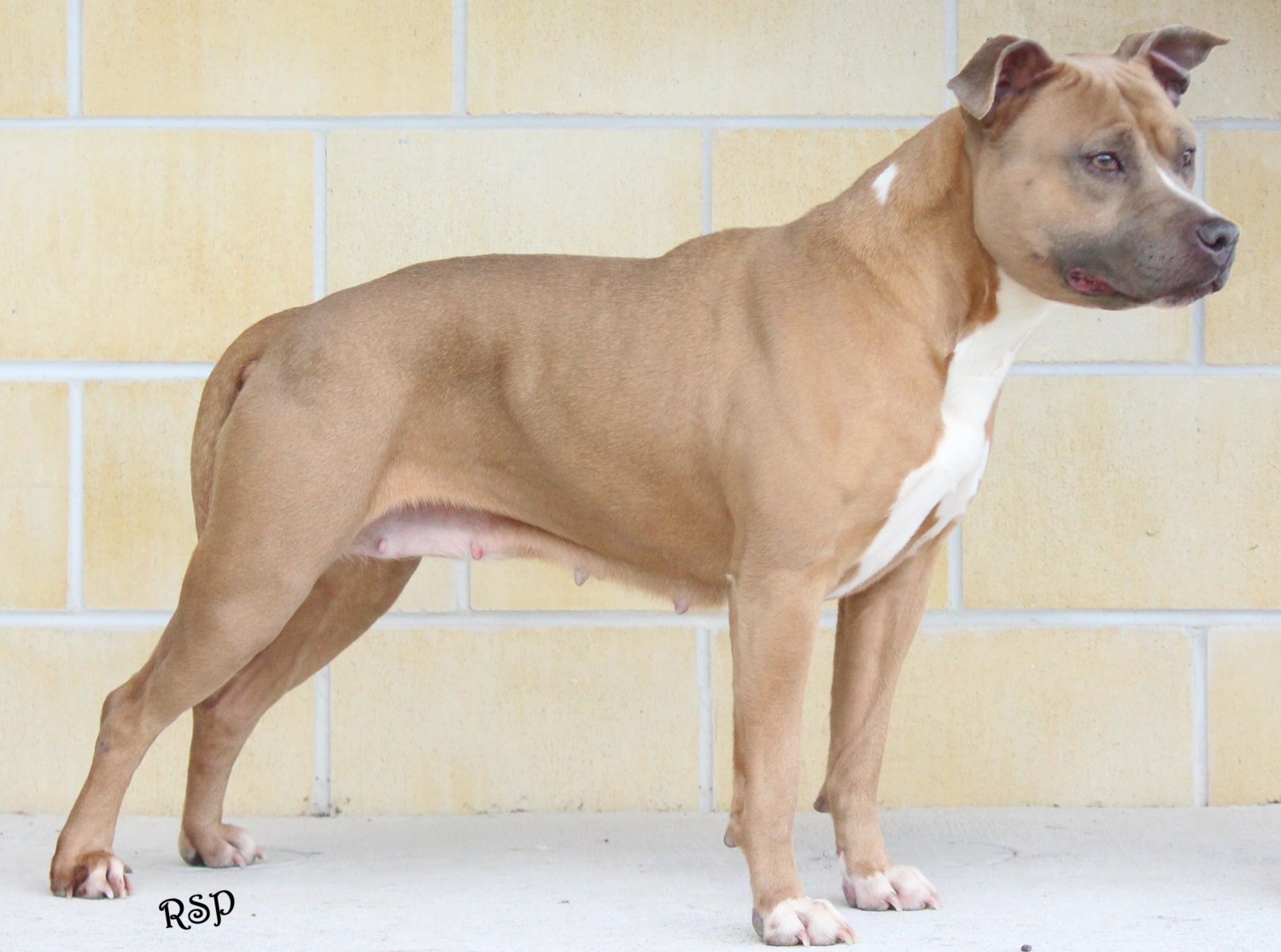 Aust Ch. Havfun Bad Habit ~ in this photo he was approx . 3yr old.  Again, no individual ribs showing, however you can see the outline of the ribcage and the tuck in the waistline.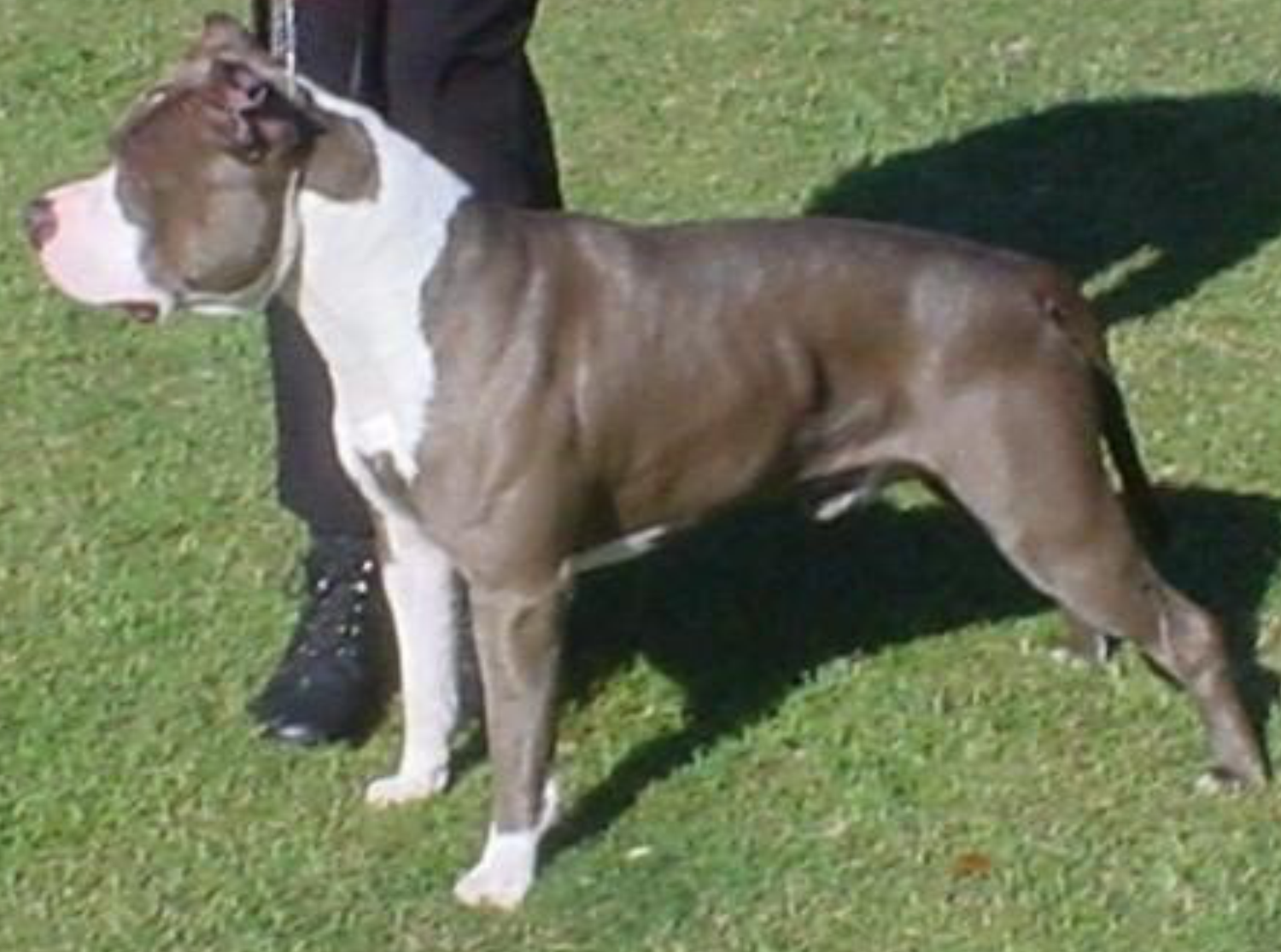 The Bad
Staffwild Holierthanthou ~ 7yr old Amstaff Desexed Bitch ~ Overweight, way overweight.  Holly's new owner was being a little too loving, this weight puts undue stress on their joints, heart and overall health, it is a quick way to kill them with kindness.  You can just see Staffwild Mastaofpuppets in the background, he was the same.  These two dogs went from one extreme to another.  The 2nd photo of them below was taken approx. 12mths earlier when I took them back from an their owner who believed they were in good fit weight!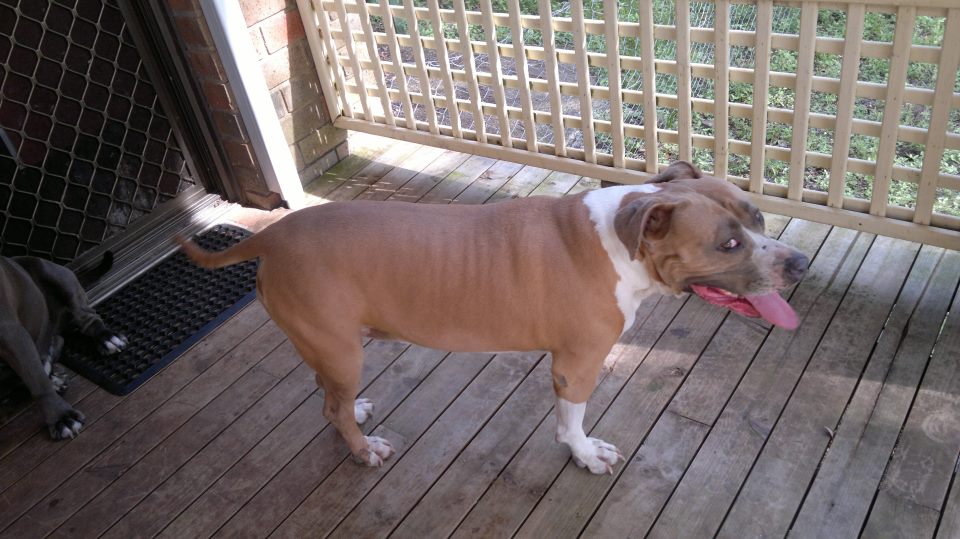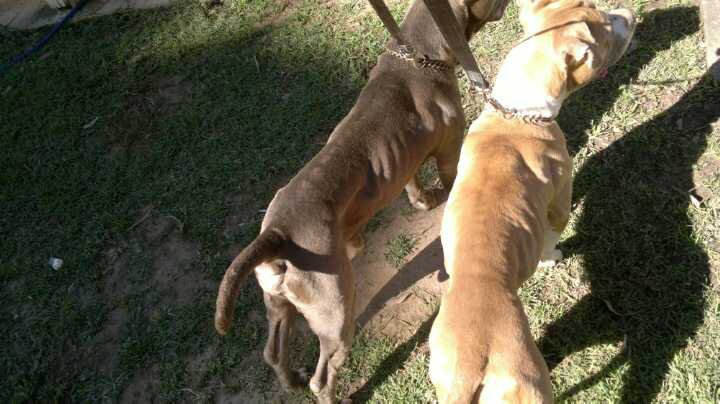 Below are photos of ours dogs at shows and lure coursing, including a photo of Aust Ch. Havfun Bad Habit competing in weight pull at 8yrs of age.


| | |
| --- | --- |
| Aust Ch. Havfun Bad Habit (8yrs old) | Staffwild Lightning Crashes (2.5yrs lure coursing) |
| Staffwild No Remorse (7.5yrs at her first lure trial, Indy has been desexed since 4yrs of age, she has no fat on her at all) | Staffwild Super Overdrive (2yrs of age, winning Runner Up Best of Breed at the 2015 Ekka under a UK terrier specialist, then winning Best of Breed under the USA Terrier specialist judging the 2015 Ekka Terrier Speciality) |